I thought I'd do a little review of this. It's a new foundation from Bourjois and after reading Nooberella's review of it Here I had to buy. Check her out if you haven't already!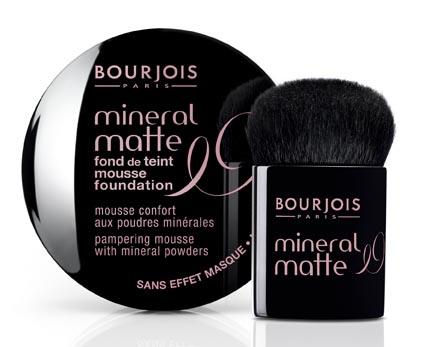 OK so it comes in a satisfying black shiny screw top pot. Yes. I like the packaging. I also like the novelty aspect of it coming with a tiny kabuki brush you need to use to apply it.
So what they say:
The light mousse texture of the Mineral Matte foundation instantly blends onto skin for a flawless finish, without a mask effect.
Provides more coverage and an incredibly flawless finish, without a mask effect.
The Mineral Matte perfecting brush to apply the mousse foundation. Apply with circular movements for a perfect and natural finish guaranteed.
Lets skin breathe while maintaining its moisture level!
What I say:
First the colours, there were about five shades available in Superdrug and I picked the palest. It looked too yellow in the pot but I went for anyway, this was shade 81. In actual fact it was a fabulous match for my pale skin. I really didn't expect it to be. Impressed.
The foundation itself looks like a little pot of thick mousse which you dab the kabuki into and buff into your face. This works really well, pretty much a flawless coverage, lovely colour match beautiful finish. It really struggled to cover a spot I had on my chin, but it claims to be light coverage so I'll let that slide.
So far so good right? Yes but then it all went wrong.
I have normal skin, prone to hormonal spots once a month but otherwise I tend to have bits of dryness. You wouldn't have thought it. By lunchtime this stuff was sliding all over my face settling in unflattering clumps around my nostrils, in my wrinkles, just yuck.
Next morning I had a new spot. I wasn't too worried because y'know I do get the odd spot from time to time. So I tried the foundation again yesterday. Same again really, looked awesome, applied well, but by lunch…not so much.
I won't be using this again. Here's the kicker though.
I woke up today with a face full of teenage acne. Nice. I'm 35!
Bourjois Mineral Matte Foundation. No thank you you vile product from hell.
If anyone wants it, let me know cos I can't afford to just throw money away like that. £5 inc postage. Which reminds me, don't forget to check my BLOG SALE.
And if you haven't entered my giveaway yet then do so HERE
TTFN